To order any previous calendars please contact us by clicking HERE.
2022– Truth Matters!!  Critical Race Theory is Fact.  The 46th edition of the Black Seeds Historical and Educational Calendar (BSHEC) is dedicated to those who continue to research and reveal the true history of our people.  Regardless of the obstacles, repercussions and backlash, brave, courageous, and righteous people continue to educate, organize, and unify our people.  Oftentimes they are not recognized or acknowledged immediately, but through the efforts of BLACK SEEDS and others their achievements and sacrifices WILL NOT BE IGNORED.
2021– In addition to our standard features, including the Pull-Out Poster featuring Black Panther Party Sisters, monthly article topics focus on The Black Press; Southern Negro Youth Congress; Black Veterinarians; Slavery Trail Of Tear; This Land Is Our Land Too—The Black Backbone Of America; Deadly Disparities; Illusions Of Progress In Black Lives; Who Are White People?;  African Queens; Radical Black Women; Dr. Rosalyn Terborg-Penn; and Unity Beckons.
2020 –Calendar includes a Pull-Out Poster:  They Helped to Make the Tech World We Live In,  along with monthly articles titled – Sick and Tired of Being Sick and Tired; C.R. Gibbs…Griot; Ann Atwater; Celebrating Sisters; Free Land—Just for the Taking No 40 Acres, No Mule; Sista Nehanda; Buffalo Soldiers—Dissed, Discharged, Hanged!!; "When I Become Mayor, You Become Mayor"—Really??…; Before BET and Motown there was the  Chitlin Circuit;  We Came in Chains; The Game Is Fixed… and James Montgomery.
2019 Calendar – The 42nd edition of the Calendar continues to provide insight and thoughtful commentary and analysis of our story.  The monthly articles highlight the following personalities: Nyabinghi and Muhumusa; Willie Ricks; John Carlos and Tommie Smith; Martin Delany; and Amzie Moore.  In addition, the following issues are also addressed: Black Films; Wholistic Health; Black Home-Schooling; Self-Defense/Guns in the Community; and Removal of confederate Statues.  Our special features include two photo pages (we invite you to submit photos and graphics); Updated Booklist, Black Facts, Black People Speaking For Ourselves; Demographics of our people in america and the diaspora; Youth Page; Kwanzaa Article; and a pull- out Poster that recognizes our warriors who have transitioned and left a legacy of activism.
2018 –  The monthly articles are: Anglo-Ashanti Wars – Africans resistance to colonization and subjugation • E. B. Henderson – Inspiring story of one man's effort to fight for equality for Blacks in the sports world during 1900s • Dorie Ladner – Living legend and Civil Rights advocate who has dedicated her life to fighting for equality • Black Hospitals – The history of Black hospitals in america • Exoneration – Insight into pattern of wrongful conviction and release after serving time • Opt In – It's time to choose to resist efforts to destroy hard fought gains • Hidden Genius – Info on Raye Montague and Janez Lawson – two of our geniuses, like those in "Hidden Figures" • Liberation Theology – The role of religion in the liberation movement • Dr. T.R.M. Howard – 1900s advocate and activist who served as a mentor and role model for many civil rights activists • Devil's Punchbowl – 1,000s perish in this Black concentration camp following the Civil War.
2017 – "We Who Believe in Freedom…" – the obama truth – no cream, no sugar • tribute to ourstorians • brazil – shades of black • pearl e. bassett – never give up • "a riot is the language of the unheard"… can you hear me now? • muhammad ali – excellent boxer…and legacy keeper, rebel, human rights activist, anti-imperialist, anti-racist, hip-hop artist…bad dude! • black love affair • africans returning to africa • anarcha, lucy, and betsey • francis cress welsing, bobby wright, and neely fuller, jr…modern griots: making sense of madness • my daddy's in jail too!!…effects of incarceration on communities • oney judge… – "i am free and choose to remain so" • kwanzaa • youth page • and more…
2016 – "We Who Believe in Freedom…" – black panther party 50th anniversary" – the panthers are the ones who fed my children this morning • with a little help from his friends • lynda lowery…living legend • this is how we do it • mother africa – lions and cheetahs • run and tell that! • burn, baby, burn! • hubert harrison…all things, everything for my people • the lost year(s) • eloise greenfield – a rare jewel • in defense of self-defense • are we there yet??? • kwanzaa • youth page • and more…
2015 – "We Who Believe in Freedom…" – Culture-based mentoring…making the most of our Children • …that your Son on tv? the legacy of emmett till, mamie till mobley • Solitary on the Farm – the angola 3 • "lifting as we Climb" Colored women's Club movement • it's in our dna!! • our Family tree • negro Fort – trimuph and tragedy • william Still and the network to Freedom • "youth are the roots of Change" – roots activity learning Center • h.rap brown to imam jamil abdulah al-amin…Fearless warrior • do For Self ….racial Solidarity & economic development • black queen of beauty • kwanzaa • and more….
2014 – "We Who Believe in Freedom…" – the mau mau…Fight against theft of the land • massacre at orangeburg… • warrior brothers… kalonji tor olusegun/kasisi jitu weusi • a rope around my neck!!! – james Cameron beats odds, leaves legacy • thelma glass…talkin' is not enough! • ta-Seti • Sylvester james gates…living legend… modern day genius! • the Centennial of the government of the unia- aCl • black Family!!! big ups! • we Fought For Freedom • private prisons make big bucks… • universal african dance and drum ensemble • kwanzaa • and more…
2013 – "We Who Believe in Freedom…" – SOLD OUT!!!
2012 – "We Who Believe in Freedom…" – why we breathe… • amelia boynton robinson • ma'at – the divine guideline • i/we • baba Zulu • Sugar: a history not So Sweet – a reign of terror • mansa musa – lion of mali • henrietta lacks – unSung heroine of modern medicine • the black holocaust – in nazi germany • obama x – not! • i don't Care what nobody tell you otherwise…. the blues are the Facts of life • violence awaited any misstep – obscure laws and unwritten Customs of Segregation • kwanzaa • and more…
2011 – "We Who Believe in Freedom…" – Free at last????? • buy black or die! • diane nash – a voice in the movement For Social Change • post racial???? • the glory and majesty of african women • whatimsay? – high hopes For hip-hop • Chicago, il 1919 mass lynching • Cinque : justice denied…40 years and Counting • one love • haiti • the beauty within • and more…
2010 – "We Who Believe in Freedom…" – always bet on black – obama & you • thanks to our black book publishers • queen nanny of the maroons • jesse mciver • riding the big dog…the Freedom rides • redeemed! (released to minimum Security) • it's up to us!! we must tell our own Story • the tuskegee experiment – unethical and outrageous • anna julia Cooper – a woman Still ahead of her time • Cointelpro – an american nightmare • 21 Compliments to the nguzo Saba • and more…
2009 – "We Who Believe in Freedom…" – Obama…Either Way • Johnnie Carr: Look Back, But March Forward • Ramses II, Also Known As Ramses The Great • Let's Be Our Own Priority • Organizing For Black Power • Black Baby Boomers – Don't Blast Off • Everyone Is In The Pan! Henry Sylvester Williams • adaCi …African Diaspora Ancestral Commemoration Institute • Pride Of The Delta • Mandatory Minimum Sentencing/It's Not Fair • Who Wants A Piece Of Me?? The Berlin Conference • On The First Day Of Kwanzaa • and more…
2008 – "We Who Believe in Freedom…" – ghana independence • jena 6 • birmingham Children's march • i Saved to run • Squash all beefs • what became of the Conscious black athlete? • unia – garvey • are we there yet? • gaspar yanga • Callie house – mother of reparations • Coming to africa • and more…
2007 – "We Who Believe in Freedom…30th Anniversary Edition" thirty – St. johns island • rebecca lee Crumpler • go • motherships, to Slaveships, to Spaceships • yes ma'am • hapshepsut – african pharaoh queen • the new african prison Struggle • education is the key to Survival • the price of Freedom • are our black Seeds taking root? • and more…
2006 – "We Who Believe in Freedom…" – living legend dorothy height • bold and brilliant escape to Freedom • ruby doris Smith-robinson • the Stono rebellion • black Conventions – a Common Cause • lunchin! – we do not Serve negroes! • black Farmers … a bitter harvest • the Candaces • Celebrate kwanzaa • what time is it? • here are three generations • a brother's apology • and more …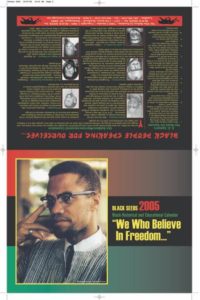 2005 – "We Who Believe in Freedom…" – gaston & russell – giants of black business • hbCu's – we must keep them alive • From peanuts to microprocessors • the Colfax massacre • king behanzin Fought to keep africa Free • Coffles – the over-ground railroad • blacks in Canada • daisy bates – guardian of Civil rights • african man hunt • vernon johns – no Fear • peru through african eyes • on the First day of kwanzaa • and more…
2004 – "We Who Believe in Freedom…" – repaying our debt to haiti • arthur Schomburg • all african people • black lawyers – leaders in the Fight For Freedom • black nubia – First on the earth • black Seeds 1974 to 2004 •• racial preference – white privilege • mary burnell talbert – lifelong Civil rights activist • Stop the Children! better than what we had…. • black Seminoles • dr. ivan van Sertima – africans who Came before Columbus • on the First day of kwanzaa • and more …
2003 -"We Who Believe in Freedom…" – quilt Codes • montgomery – we'll keep on walking • mary Church terrell – pioneer activist • deacons For defense and justice • the africans who were never Conquered! • patronize your own – buy black! • william leo hansberry – lonely warrior For black history • the gullah of the Sea islands • a black take on nine 11 • irene morgan – i did what i did because it was right! • melanesia – africa in the pacific • the ten point program – what we want • on the First day of kwanzaa • begin building your library • youth page 2003 • reparations now! – as is our just due • and more …
2002 – "25th Anniversary We Who Believe in Freedom…" – the battle For liberty at Christiana • j.a. rogers – Freedom Fighter • the invisible empire • Septima poinsette Clark – Sister Soldier • dear brother malcolm • men on the move • african emperor • are you a Change agent or Selling out? • education – where are african americans headed? • tragedy at port Chicago • the destruction of the tasmanian aborigines • Call to action • Celebrating kwanzaa • and more …
2001 – "We Who Believe in Freedom…" – that's whack!! – no waxed!!! the great blacks in wax… • a black Seeds view of history • advice From a Slave woman • yes, this is a black town … black with people! • the Zanj rebellion • perspective on the new Century • africa For the africans • 20th Century rebellions • psychiatry: dis-guised racism • osei tutu – asantehene (king of kings) • doing For ourselves. • and more…
2000 – "We Who Believe in Freedom…" – the berbice revolt • ruby hurley • blacks in Coal mining • reparations • Cuba • message from assata • and more …
1999 – "We Who Believe in Freedom…" – african genius and Creativity • john henrik Clarke • piankhi • gloria richardson • justice in america • robert williams • lessons From the black belt • and more …
1998 – "We Who Believe in Freedom…" – black Car manufacturer • black economics • durham, nC • global african Community • black Codes • the blues • 1811 Slave revolt • queen amina • and more …
1997 – "We Who Believe in Freedom…" – blackball • blacks built pyramids • a. philip randolph • we did more than pick Cotton • u.n.i.a.-a.C.l. • blunts, bullets and baggy pants • lugenia burns hope • enemies of african Freedom • and more …
1996 – "We Who Believe in Freedom…Rising still" – black wall Street • queen makeda • medgar evers • native americans • great Zimbabwe • Solving our problems • get Connected • black love day • and more …
1995 – "We Who Believe in Freedom…" – SOLD OUT!!!
1994 – "We Who Believe in Freedom…Educate • Organize • Unify" – black men do work • resist & escape • overdue praise to african american youth • harriet jacobs • rites of passage • the moors • and more …
1993 – "We Who Believe in Freedom…Building Black Unity" – the palmares republic – african roots in brazil • everywhere the x • rays of hope • ida b. wells • pathfinder • a brother's apology • toussaint l'ouverture • and more …
1992 – "We Who Believe in Freedom…must stand Together" – Save black Colleges • dr. yosef ben jochannan • the Church and liberation • african links to math, Science and technology • Cudjoe • we will Control our destiny • has integration Failed? • and more …
1991 – "We Who Believe in Freedom…Have Unfinished Business" – the people are not fighting for ideals • ellen Craft • africentric education • prisoners of war • black nubia – First on the earth • Chancellor williams • and more …
1990 – "We Who Believe in Freedom…" – SOLD OUT!!!
1989 – "We Who Believe in Freedom…Rising still" – Stop amerikkka From eating its young • ujamaa shule • african american museums • message from assata • imhotep – original genius • art as a tool for freedom • and more…
1987 – "We Who Believe in Freedom…Educate, Organize, Unify" – the people Choose Freedom • organize to Survive • marcus garvey • teen parents • martin was more than a dreamer • nanny prosser – Freedom Fighter • and more…
1986 – "We Who Believe in Freedom…What We must do" – in defense of Self-defense • we must Save and Strengthen the Family • tribute to our Fallen warriors • nat turner • what rights? we Still aren't Free • none of us Can be excused • and more…
1985 – "BLACK sEEds For African Freedom" – henry highland garnett • enemies of Freedom • black women in the Struggle • julian Fedon • independent black Schools • black Seeds in prison • and more…
1978 to 1984 – "We Who Believe in Freedom…" – SOLD OUT!!!