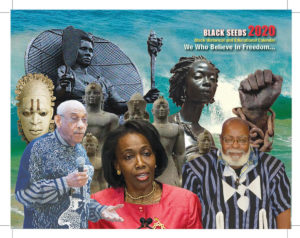 The 43rd edition of our Calendar continues to provide insight and thoughtful commentary and analysis of Our Story. This 2020 BLACK SEEDS Black Historical and Educational Calendar is dedicated to those of you who combat the attacks on our community from all sources and fight for change against all odds. As a reader of the Calendar you have shown a commitment to the legacy and survival of our people. Knowledge is power when it leads to action. Thank you for taking a role in knowing and doing what's necessary to continue moving forward. We especially thank those of you who contributed to the Calendar by writing an article, or sending in graphics or photos.
As usual our special features include: a pull-out Poster that recognizes some of the unsung genius of Black People in contributions to science and invention; a Youth Page with activities for the young and young at heart; BookList of readings to further your studies; Kwanzaa article; Demographics of our people in america and in the diaspora; Black Facts for every month; Black People Speaking For Ourselves; as well as Get Connected, a listing of Afro-centric websites.
The monthly articles highlight personalities such as C.R. Gibbs, Ann Atwater, Sista Nehanda and James Montgomery. Thoughtful analysis is given to topics such as the Buffalo Soldiers, Black Mayors, Blacks and Land Ownership, the Chitlin' Circuit, Black Genius in Science and Medicine and How the Game is Fixed Against Us and Photo Pages offering inspiration from our Black Shining Princesses and Muhammad Ali.
We hope the Calendar inspires you to get involved and TAKE ACTION that demands fundamental change. Pass it on. Share it with friends, family, and organizations. KNOWLEDGE WITH POWER AND ACTION LEADS TO FREEDOM!! EDUCATE – ORGANIZE – UNIFY.